To help navigate the rapidly changing information for Seniors with COVID-19, please call our Senior Information Hotline at 240-517-7974.
Senior Resources
City of Laurel Senior Service Information Hot Line
240-517-7974, 8am to 8pm
horas de traducción al español de 9 a.m. a 5 p.m.
Utility Information
WSSC and COVID-19
Water is essential in protecting public health. WSSC Water is suspending all water shutoffs, including planned scheduled shutdowns associated with water main replacement projects, during this COVID~19 virus outbreak. Learn more about our response by calling 1-800-828-6439 or visiting:
https://www.wsscwater.com/COVID~19virus
How will COVID-19 impact other BGE services?
At this time, BGE will continue to respond to requests to start or stop service which, in many cases, can be done remotely, without accessing customer homes and businesses. In cases where accessing a building is necessary, our field employees are being advised to take appropriate action, such as wearing masks and/or gloves to perform their jobs safely.
Customers may continue to conduct regular business with BGE 24/7 using BGE.com or the Mobile App. https://www.bge.com/
Verizon hardships due to COVID-19
When a Verizon customer is experiencing hardships because of COVID-19, Verizon will waive late fees for 60 days from March 16, 2020 to May 16, 2020, and will not terminate service to a customer who's been impacted by the events involving the COVID~19 virus. If our customers are experiencing a hardship, they should call our customer service team to discuss their situation and available options. Yes, the Verizon Wireless National Accessibility Customer Service is a dedicated team with trained staff to support our customers with disabilities. They can be reached at (888) 262-1999, Mon - Fri, 8:30 AM - 5:30 PM ET.
Xfinity/ Comcast
http://www.xfinity.com/accessibilitysupport
800-266-2278 or xfinity.com acessability.com
855-270-0379
Senior Nutrition Program– 301-265-8475
To be eligible for the Senior Nutrition Program, an individual must:
Be a Prince George's County resident
Be at least 60 years of age, or have a spouse that is 60 year of age and attends Senior Nutrition Program
The Senior Nutrition Program has two components: The Home-Delivered and Congregate Meal programs. Each meal served meets at least one-third of the Recommended Dietary Allowances for older adults and follows the Dietary Guidelines for Americans. The Home-Delivered Meal program provides meals to homebound older adults within the community, with the intent of assisting the resident with remaining in their own home. A hot meal is delivered to the older adult's door five days a week.
Meals on Wheels Central Maryland 410-558-0827
Home-Delivered Meals
Up to two meals per day, a hot lunch and a cold supper, are delivered by a caring volunteer between 10:30 a.m. and 1:00 p.m., Monday through Friday.
Our services are available on an ongoing or temporary basis, regardless of age or economic status. Special diets, including no pork, no fish and texture-modified options, are also available.
Grocery Assistance Program: GAP
Meals on Wheels of Central Maryland offers volunteer-supported grocery shopping and delivery for clients who cannot shop for themselves. This service is available to clients who receive home-delivered meals, and to others who are aging in place and need grocery shopping assistance.
COVID~19virus Scams: Watch Out For These Efforts to Exploit the Pandemic
~ There are no free COVID~19 testing and do not offer personal information over the phone.
~ Do not entertain strangers in your home.
~ EPA says your tap water is safe to drink.
~ There are no free testing door to door
~ The Silver Solution does not exist
~ Additionally, users should be mindful of phishing emails that disguise themselves as coming from the Center for Disease Control and Prevention and the World Health Organization, with the latter noting that WHO emails are addressed ".int" and that "WHO does not send email from addresses ending in '@who[.]com' ,'@who[.]org' or '@who-safety[.]org'."
Grocery / Food / Pharmacy Delivery Services
ALDI Grocery Delivery www.aldi.us      Giant Foods  www.peapod.com          
Food Lion https://www.foodlion.com/stores/md/laurel/1662/
DoorDash® www.doordash.com           Grubhub www.grubhub.com
Be sure to have a 90-day supply of meds on hand.
CVS https://www.cvs.com/content/delivery
Pharmacy is waiving charges for home delivery of prescription medications, learn more today.
Walgreens https://www.walgreens.com/topic/pharmacy/prescription-delivery.jsp
Prince George's County Health Department Hotline 301-883-6627, 8am – 8pm.
Food Assistance - https://www.cityoflaurel.org/comm/press-releases/14256-city-laurel-teams-local-agencies-feed-people-during-pandemic
_________________________________________________________
 Senior Call Check Program
You can also sign up for the Maryland free, opt-in, telephonic service to check on Maryland's older residents, all across the state.​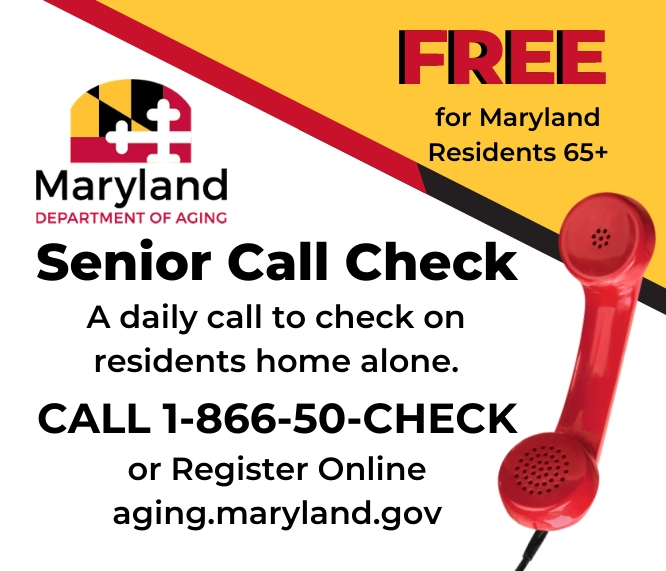 HOW DOES IT WORK?
Every day a telephone call will be placed to a participant at a regularly scheduled time. These calls will take place between 8 a.m. and 4 p.m. as close as possible to the one-hour time block pre-selected by the participant. If the participant does not answer their first call, they will be tried two more times. If those calls go unanswered, additional calls will be made to notify an alternative person who is selected by the participant during program enrollment. This could be an adult child, a neighbor, or another loved one. The alternate will then be encouraged to check on the older adult program participant. The failure of the participant and alternate to answer may result in a Welfare Check by local law enforcement. 
***ATTENTION IN RESPONSE TO THE COVID-19 PANDEMIC***
We recommend all seniors use the program as a resource during the COVID-19 global pandemic. Senior Call Check phone lines are open M-F 8 am-5 pm and Saturday 9 am-3 pm.  During these hours, seniors can call toll-free 1-866-50-CHECK (1-866-502-0560) and register.  
•         The verification and enrollment process can be completed within 24 hours Monday – Saturday.
•         We will provide messages and updates regarding the COVID-19 outbreak.
•         Finally, regarding our emergency preparedness for handling possible disruption from COVID-19, we can provide you information at this time of need.
WHO CAN PARTICI​PATE?
Any Maryland resident who is 65 years of age or older who has a landline phone or cell phone (TTY is available). The participant and alternates should not have automated call blocking technology (or they should disable that phone feature for this program).
WHO IS AN ALTERNATE?
An alternate is a person you have selected to be called in the Senior Call Check program in the event you do not answer your automated call after 3 attempts. This person must be a reliable emergency contact, such as an adult child, responsible neighbor, or close relative. It is helpful to discuss the program with your alternate and explain their responsibility in being a support for you in the event you need help and do not pickup your daily call. If you do not have an alternate or they don't pickup, that's okay too. The program will notify your local non-emergency service after multiple attempts to reach you and your alternate.
HOW TO APPLY?
Three options available to apply:
1. Click on REGISTER NOW below.
OR
2. Go to RESOURCES below; download & print Maryland Senior Call Check Paper Application to mail in.
OR
3. Call toll-free (866)-502-0560 and ask to have a hard copy application mailed to your home. 
WHEN DO CALLS BEGIN?
Daily calls will not begin until the applicant/participant receives a call to verify all of their information. Verification will include a successful test automated call to both the participant and alternate where applicable. After all, information is validated, a Welcome Packet will be mailed to your home address. The welcome letter will include your start date.
CLICK THE LINK BELOW TO REGISTER

​ 
For Maryland residents who qualify for the program but who do not have access to the Maryland Department of Aging website, www.aging.maryland.gov, you may call our toll-free number to register by phone: 1 (866) 502-0560.
If an application is denied, the applicant will be informed. If an application is accepted, the applicant will be enrolled as a participant and informed when the daily call checks will begin.